Congratulations to the 2019 Bears
The 52+ Bears finished in 1st place for the regular season, and beat the Bulldogs and Reds in the playoffs to take the championship crown. The championship game against the Reds provided a dramatic finish with the Bears ahead the entire game when the Reds notched 7 runs in the seventh to take a 12-11 lead. Dan Hendrickson rallied his team as Dave Bayer led off the inning with an infield hit and eventually came around to score the tying run, setting the stage for Greg Gaber to crush the walk-off winning run.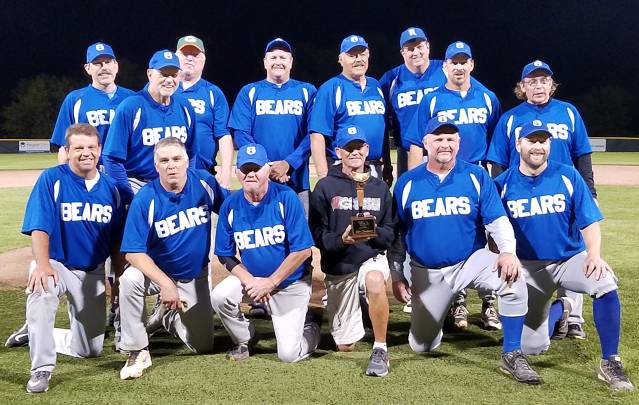 Earlier in the game, the Reds decided to load the bases with two outs with an intentional walk in the sixth, but Daryl Johnson thwarted that strategy with a 2-run hit. The top four in the lineup: Andy Hess, Todd Edwards, Greg Gaber and Mike Arnold, recorded 11 hits and 8 RBI's. Marty Wojcik recorded the win, pitching 2/3 of an inning.
Every Bear contributed to the team's success, as the Bears' "Never-Let-Up" attitude and fun positive energy made it a special year.