Recap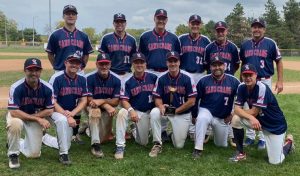 It was an overcast, humid, but rather nice fall day on Sunday, October 3, 2021, for the championship game of the MABL of Southern Wisconsin 45+ division, in the battle for the Matt Varney Trophy.  The Sand Crabs faced off at East Madison "Stadium" against the Crawfords in what will go down in history as one of the best (or at least fastest) championship battles in MABL of Southern WI 45+ history.
You know how some games just seem to go on, and on, and on, with walks, errors, pitching changes, and the like?  Yeah, well this was not one of those games.  The game started at 12:00 PM sharp, and by 2:15, a complete game had been played, and a champion crowned.    The End.
But wait, there's more!
This was a game for the ages. All 11 fans in attendance would agree.
Having paid his dues, time after time, Randy Gaber tickled the ivory rectangle for the Sand Crabs, matching up against Shad Fanta for the Crawfords.  Each pitcher threw a gem.  Catchers were the beastly Brian Buol for the Crabs, who has had his share of sand kicked in his face, and the powerful Paul Meyer for the Crawfords.  Each backstop would announce his presence with authority at the plate today, my friends.  Buol, fresh off a rehab stint in Triple A Albuquerque, was back in top form after taking a 65 MPH fastball to the right elbow two weeks ago.  When asked to what he owned his speedy recovery, he just said "Horseshoe Crab baby, Horseshoe Crab", as he walked strangely backward away from the confused and slightly frightened interviewer.
The visiting Crawfords mounted a threat in the first when RF Dave Weidenhamer reached on an error but was retired when 2B Mike Starshak grounded into a fielder's choice.  Paul Meyer roped a single to left to advance Starshak to second base, but the threat was ended on a fielder's choice by Fanta.  The Crawfords were able to advance runners to second in the first, second, and 6th, and not until the 9th did they visit the hot corner.
In the Crabs half of the first, lead-off hitter and LF Chris McGill took his bows and doubled to right center, went to third on a fly ball by SS Mike Schoonveld, and then scored on a sacrifice fly by Gaber, who acknowledged the joyous crowd with a curtain call.
The Sand Crabs clawed for a couple more in the second when utility man Jim Pliner singled, bringing fame and fortune and everything that goes with it, and was subsequently advanced to second on a single by CF Jason Himebauch.  Both runners advanced on a wild pitch and JP scored on a deep sacrifice fly to right by Buol.  3B Tim "Mackles" McInernay took a free pass to first, then stole second.  While this was occurring, Himebauch snuck home, nearly unnoticed.
3-0 Crabs. That was it.  All of the scoring was complete by the end of the second inning.
The Crawfords made things interesting in the top of the ninth.  3B Jeff Knight laced a deep shot to left field, but McGill was able to track down the ball and make a Superman catch for the second out.  He certainly did not appear to have landed on a bed of roses, nor was his path to the ball a pleasure cruise but this was one of the best catches I have witnessed in all of my years of playing and watching baseball.  SS Andy Winn singled and was advanced to third on a single by 1B Sean Michael Dargan. Gaber then struck out LF Steve Kilberg to end the game, sealing the 5th consecutive championship for the Sand Crabs.
Bill Nowak, the Crawfords journeyman leadoff hitter was unable to play due to being on the 10-day IL due to a knee injury suffered while single-handedly saving a bus load of children from plummeting off a cliff in Florida.  Nevertheless, he was still hit by a pitch in the first base coaching box.  Get well soon, Bill.
Meyer, Winn, and Dargan had two hits apiece for the Crawfords and Weidenhamer had one.
Pliner had 3 hits for the Sand Crabs, followed by McGill and Buol with 2 including a double for each of them.  Schoonveld, Gaber, and Himebauch each had one knock.
Fanta went the distance for the Crawfords, holding the Crabs to 3 runs on 10 hits, striking out 3 and walking only one.  He induced 8 pop-ups to the infield, and a whole lotta fielder's choices that were definitely not choice, frustrating the clawed crusaders.
Gaber threw all 9 for the Sand Crabs, scattering 7 hits, striking out 6 and walking none.
Refreshments were had, reminiscing was done, and stories were told as the championship trophy was passed around Slice's for the traditional pour from the glove that signifies the end of the baseball season.  The Sand Crabs are looking forward to resting their weary bones and recovering from numerous injuries and various maladies over the off-season.  We all want to collectively thank the umpires, league officials and organizers, our spouses, significant others, mothers, fathers, children, pets, and anyone else who helped facilitate our ability to play a child's game as somewhat older men.  While our physical health may take a few hits during the year, the mental health benefits of this camaraderie is immeasurable, and we look forward to seeing you all again next year.
Details
| Date | Time | Division | Season |
| --- | --- | --- | --- |
| October 3, 2021 | 12:00 pm | 45+ Division | 2021 |
Field
EMLL
East Madison Little League, Eken Park, Madison, Dane County, Wisconsin, United States
Umpires
| Plate Ump | Field Ump |
| --- | --- |
| Perzentka, Brent | Springer, Brett |